"Let's Just Play" — JUNIOR season Finale Mini-Tournament –
Saturday, June 18th
Junior players from all clubs, and all schools are welcome to participate.
Venue: OISC gym at the Franco Cite HS
Options (pending registration numbers):
I want to challenge myself (competitive)
I just "wanna" have fun playing games
Format: Round Robin groups so that all players have a chance to play against several different players/teams
Mark your calendars now...check back for schedule details, and registration information.
SUMMER CAMPS 2022
We have confirmed the option of seven (7) weeks of summer camps at Turnbull School (Fisher Avenue between Baseline and Carling) starting July 4.
It is our great hope that we will be able to welcome you back to the courts for some fun with friends while you develop your badminton skills.
Players from all schools and all clubs are welcome to attend: ages 6+ to adult, all playing levels.
Player will be grouped into mini-training groups based on general age and general playing ability as assessed by the coaching leadership team, to ensure a positive camp for all.
Options include:
Full day from 9:00 — 4:00
Half day mornings from 9:00 — 12:30
Half day afternoons from 12:30 — 4:00
Ottawa Sports Council Recognizes DOMINIC SOONG with Lifetime Coaching Award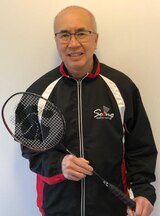 Mar. 09, 2022

Lifetime Award Recipients Announced for 2021

Raz El-Asmar, Dave Mallory, John Reid, and Dominic Soong are the 2021 recipients of the Ottawa Sports Awards Lifetime Awards and Mayor's Cup. The Ottawa Sports Awards is proud to highlight the years of commitment and excellence that these recipients have shown to sport in Ottawa, including returning to sport in 2021.
Lifetime Award – Coach: Dominic Soong
A widely recognized technical expert who has dedicated over 40 years as a professional coach, Dominic Soong has been integral in growing the sport of badminton in Ottawa and beyond.
Soong has worked with athletes who participated in the Olympic Games and earned multiple National, Provincial, and Regional titles, including at Canada Winter Games and Ontario Winter Games.
His coaching focus has always been on the development of players locally at all levels, and the building of a strong and solid foundation of players with good technical skills. He has built partnerships with local schools, community centers, sport associations, and the City of Ottawa, developing one of the largest and most successful junior badminton clubs in the country.
An NCCP Level 4 coach and coach developer, he has mentored, trained, and provided coaching job opportunities to over 150 NCCP coaches.
Congratulations Dominic, from all your current and past players and coaches.
RACQUET STRINGING & PRODUCT SALES
Expert racquet stringing, racquet stringing repairs.
Competitive pricing, Fast turnaround.
Supplier/Sales of all Black Knight products: racquets, racquet bags, apparel etc.
Supplier/Sales of all Soong Badminton Academy apparel: T-shirts, shorts.

Dominic Soong:
Tel: 613-241-3686
Email: dominicsoong@hotmail.com
A nostalgic look back in time for the Soong Badminton Academy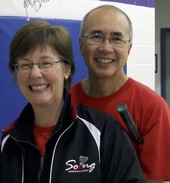 We have been reviewing and organizing our 20K+ photos of our badminton experiences over the past 25+ years.
It is our hope that you will enjoy our nostalgic look back in time, while we await our "return to play" opportunities.
Over the next few months, we will be posting some the many experiences we have shared with our coaches, and with our players over the past 25 years.
Please check back regularly as we continue to add smiles and memories with photos of our coaches and players badminton journeys
NCCP Coach Training
SBA continues to lead the way in NCCP coach development and mentoring for the Ottawa region. The winter/spring season has seen twelve (12) of our SBA members completing NCCP courses in their journey of becoming fully certified NCCP Regional coaches. Course facilitators included Janet Hugli (SBA) and Kevin Willington (OWBC).