Players Acknowledgements
OUTSTANDING JUNIOR ATHLETES — 2020 – ODBA (Ottawa District Badminton Association)
Each year the District recognizes the top District junior players in each age category based on the results of District tournaments in all events.
Qualifying tournaments for the 2019-2020 season included:
2019/10/6 – Elevate Junior Open
2019/11/10 – uOttawa Junior
2019/12/14 – Petawawa Junior Open
2020/2/8 – United Junior Open
2020/3/1 – CBL Junior Open
SBA would like to congratulate the excellent results from all our SBA players in all age categories.
Special salutes and congratulations to our SBA players who have earned the ODBA Outstanding Junior Athletes of the year awards for the 2019-2020 season.
U13 Female
MIN LIU
U15 Male
LANDEN JELLEY
U19 Female
YIYAN HUANG
2019 Junior Athlete of the Year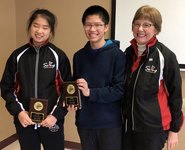 Each year the ODBA recognizes a male and female junior in each age category who have earned the highest number of tournaments points in combined events of singles, doubles and mixed doubles. Our SBA players: Yiyan Huang and Brian Kong, have continued the SBA tradition of strong tournament results, being recognized by the District as the top U15 players for the 2018-2019 season. Congratulations to Yiyan and Brian (and to all our SBA alumni).
ODBA District - Outstanding Athletes of the Year 2016-2017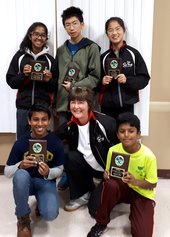 Soong Badminton Academy Players earned Five (5/10) - Outstanding Athletes of the Year (2016-2017) awarded at the annual fall ODBA District AGM on Sunday, November 5.
Congratulations to our SBA athletes:
U15 – Female: Dulika Gamage
U15 – Male: Ethan Wu
U13 – Female: Yiyan Huang
U13 – Male: Hasith de Alwis
U11 – Male: Aayush Saha