A nostalgic look back in time for the Soong Badminton Academy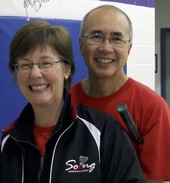 We have been reviewing and organizing our 20K+ photos of our badminton experiences over the past 25+ years.
It is our hope that you will enjoy our nostalgic look back in time, while we await our "return to play" opportunities.
Over the next few months, we will be posting some the many experiences we have shared with our coaches, and with our players over the past 25 years.
Please check back regularly as we continue to add smiles and memories with photos of our coaches and players badminton journeys