SBA Coaching Leadership Team - August 2019
The Soong Badminton Academy (SBA) develops players using a team teaching and team training approach. The SBA focus is on coaching and teaching excellence using trained and certified NCCP coaches. Continuous training and professional development of our coaching team gives players the best of support for their own personal development.
We are proud of the coaching, teaching, teamwork and leadership skills of our coaches and are confident in their abilities to help guide you to your full badminton potential. We look forward to welcoming you, your friends and your family members to our badminton programs.
With a focus on long term athlete development, SBA coaches are trained in (among other programs):
NCCP (National Coaching Certification Program)
NOCP (National Officiating Certification Program)
FUNdamental Movements
High Five (Ontario Parks & Recreation program)
First Aid, Sports Taping
Epipen administration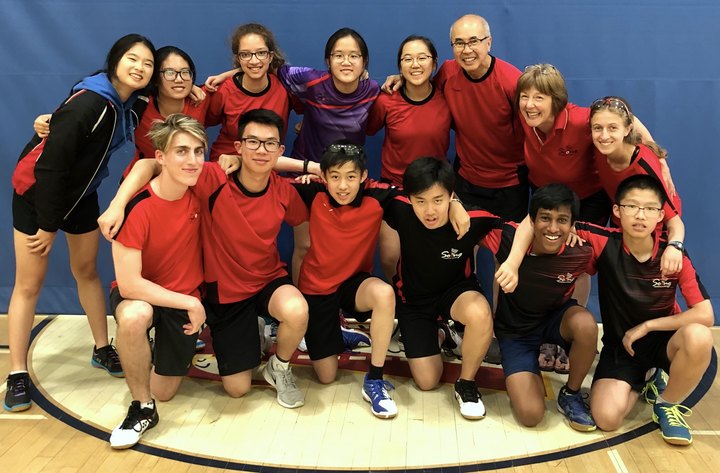 DOMINIC SOONG C.S.
NCCP Level 4 National Coach
Competition Development Coach
Former # 2 world ranked doubles Player
JANET HUGLI SOONG
NCCP Level 3 Provincial Coach
Competition Development Coach
NCCP Coach Developer
NCCP Coach Evaluator
JOHNNY WANG
NCCP Regional Coach
SBA Web Master
AUSTIN GAIGG
NCCP Provincial Coach
(Certified)
VICTOR LIANG
NCCP Provincial Coach
(Certified)
VIVIAN PHAM
NCCP Provincial Coach
(Certified)
NICOLAS TSE
NCCP Provincial Coach
(Certified)
NCCP REGIONAL - "Certified" Coaches
| | | | |
| --- | --- | --- | --- |
| | | | |
| DULINI RATHNASOORIYA | ESTELLE MIVILLE-DECHENE | KAILEY CHEN | KEVIN SUN |
| | | | |
| --- | --- | --- | --- |
| | | | |
| VANIE TRAN | XINYAN LIN | AARTHI GANESH | CALLUM CHAN |
| | | | |
| --- | --- | --- | --- |
| | | | |
| RAY BAO | MARC DENAULT | HASITH DE ALWIS | DULIKA GAMAGE |
| | | | |
| --- | --- | --- | --- |
| | | | |
| YIYAN HUANG | RACHEL KURUVILLA | LAURA WANG | HARVEY CAI |
| | | | |
| --- | --- | --- | --- |
| | | | |
| WILLIAM LIU | AMY HUANG | | |
NCCP REGIONAL "Trained" Coaches
| | | | |
| --- | --- | --- | --- |
| | | | |
| ALLISON IUN | EVERETT SIMMONS | GRACE XIE | JEFFREY ZHANG |
| | | | |
| --- | --- | --- | --- |
| | | | |
| STEVEN YANG | ALEX STRUB | JERRY YAN | ELENNA GELLATLY |
NCCP REGIONAL "In Training" Coaches
| | | | |
| --- | --- | --- | --- |
| | | | |
| JESSICA LAM | | | |
Apprentice Coaches
| | | | |
| --- | --- | --- | --- |
| | | | |
| BRIAN KONG | | | |