Weekly Training
Badminton Programs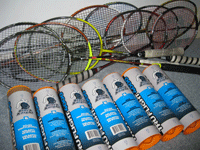 With the most recent Ontario lockdown, our planned return to court with spring and summer programs will not likely happen.
It is our hope that as the vaccines continue to roll out during the spring and summer, and with continuing protective measure being put in place, that the covid numbers will come under control it will allow us to provide a safe environment in which to offer great programs for all.
Training opportunities, camps, clinics, and other badminton updates will be posted on our website, when the gym rental contracts and start dates have been confirmed
While we continue to wait for our return to play dates, it is our hope that each of you is staying fit and inspired for badminton with regular outdoor exercise, fitness training, and strength training. We look forward to welcoming each of you back to the courts.
Stay safe.