Camps
SUMMER CAMPS 2017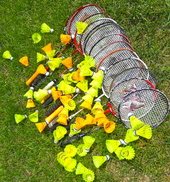 Registration is NOW OPEN and in full swing for our highly acclaimed summer badminton camps. Register early to confirm your preferred week(s).
Players from ALL schools, and ALL clubs are welcome to participate.
Join our NCCP coaching leadership team for some great summer 2017 badminton training, along with lots of FUN on the badminton courts with your friends.
Two (2) locations to choose from:
TURNBULL SCHOOL — 1132 Fisher Avenue (between Carling & Baseline)
Weekly camps beginning July 10 until August 18
Option of full day, half day mornings, half day afternoons.
(Turnbull School offers a morning academic program – registration directly with the Turnbull School)
Information Flyer
Registration Form

NEW

ST. CECILIA SCHOOL — 3490 Cambrian Road, BARRHAVEN
Weekly camps beginning July 4 – August 4
Full day camps
Information Flyer
Registration Form