Camps
SBA SUMMER CAMPS 2018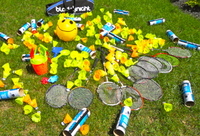 Registration is now open for our highly acclaimed summer camps. Players from all clubs and all schools are welcome to participate.
Programs include technical and tactical training with our NCCP trained and certified coaching leadership team, along with organized game play.
Plan for some summer fun on the badminton courts with your friends, and/or get a jump start on developing your competitive game.
Venue: Turnbull School – 1132 Fisher Avenue (between Baseline and Carling)
Choice of 6 weeks beginning July 9
Choice of Full Days, Half day mornings, Half day afternoons. (Turnbull School offers an academic program in the mornings: Information)