Fall 2018 - Weekly Training
Registration is NOW OPEN.
Three (3) locations to choose from. Gather your friends and continue your badminton fun while you work with our NCCP certified coaches to take your game to the next level.
Register early to confirm your spot in your preferred training group.
Coaching Leadership Salutes by BCAN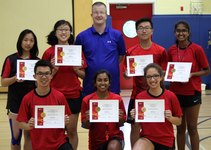 Soong Badminton Academy coaches were saluted by Badminton Canada Director Kevin Willington July 20, 2018 and awarded with Coaching Association of Canada certificates for completion of full NCCP Regional certifications in the new NCCP program. In addition to our NCCP Level 4 National coach (Dominic Soong), NCCP Level 3 Provincial Competition Development coach (Janet Hugli), and three (3) NCCP Provincial Coaches (Austin Gaigg, Victor Liang, Vivian Pham), the Soong Badminton Academy also currently has thirteen (13) fully certified Regional coaches. Pictured are Regional NCCP certified Coaches: Patricia Liu, Jessica Le, Justin Zhang, Madusha Gamage, Henry Chen, Dulini Rathnasooriya, Lindsey Esnard. A salute to all of our coaches, for helping to raise the overall quality of badminton play from beginner to top competitive level play.
Changing the Game, Changing the Conversation 2018

The 2018 "Changing the Game, Changing the Conversation" coach mentoring program kicked off in early June 2018. This is the second year that the Soong Badminton Academy has participated in the signature program of the Coaches Association of Ontario as an initiative to recruit and develop new female coaches, and to change public perceptions about who can coach.
Three (3) members of the Soong Badminton Academy were selected by the CAO to participate and to help grow the number of female coaches involved in sport. Janet Hugli was selected for a second year to continue as a mentor. Kailey Chen and Xinyan Lin were selected as new apprentice coaches. Emily Chen was selected to continue for her second year.
Ottawa was well represented by Soong Badminton Academy players at BON 2018 Provincial B Championships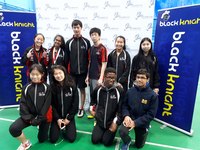 Forty-Five (45) SBA players travelled together via bus to Scarborough, supported by five (5) SBA team coaches during the weekend of April 27-29 to compete with 293 other athletes from across Ontario in the 2018 BON championships. SBA players demonstrated great play in all events across all age groups with many inspiring performances. Congratulations to all SBA competing athletes.
Special congratulation to:
GOLD medal winners in U17 GD: Dulika Gamage & Heather Liu
BRONZE medal winner in U15 GS: Dulika Gamage
BRONZE medal winner in U13 GD: Erica Xu
Soong Players earn strong results at ODBA 2018 District Junior Championships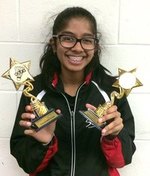 Forty-Five (45) SBA players joined 182 other Ottawa District players to compete in the 2018 District Championships during the weekend of April 6-8. SBA players earned great results capturing medals in nine (9) events, thirteen events with 3/4 finishes, five (5) B winners, and six (6) B finalists.
Soong Players sweep medals in U15 Boys Singles and U17 Boys Doubles at L'Escale 2018 Junior Tournament
Twenty-One (21) SBA players participated in the CBL-Lescale junior tournament March 4th in Orleans, sweeping the U15 boys singles and U17 boys doubles events, with great results in all other categories.
Special congratulations to TRIPLE GOLD medal winner: Christophe Silvestre
BON #5 - Provincial Junior Competitive Series Tournament – February 10/11, 2018
Fifteen (15) SBA Players braved the freezing ice drive to travel to Port Hope for the BON #5 Junior B event on the weekend of February 10/11.
Solid performances by all SBA players.
Special salute to our SBA double medal winners: Heather Liu, Dulika Gamage, Felix Wong
Changing the Game – Changing the Conversation - January 20, 2018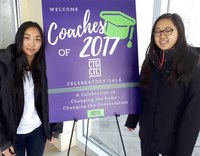 Soong Badminton Academy coach mentor Janet Hugli, and coach apprentices Emily Chen and Patricia Liu joined the CTG celebration gala at the Pearson Convention Centre in Toronto with other mentors and apprentice coaches from across Ontario, and across all sports. The event was hosted by the Honorable Lieutenant Governor of Ontario – Elizabeth Dowdeswell, and the Coaches Association of Ontario.
The CAO, with funding from Ontario 150, launched Changing the Game (CTG) in 2017. CTG successfully recruited more than 250 new female coaches into over 50 different sports across Ontario.
"Changing the Game – Changing the Conversation" is a signature initiative of the Ontario150 program.
RACQUETMASTER
Expert racquet stringing, racquet stringing repairs.
Competitive pricing, Fast turnaround.
Supplier/Sales of all Black Knight products: racquets, racquet bags, apparel etc.
Supplier/Sales of all Soong Badminton Academy apparel: T-shirts, shorts.

Dominic Soong:
Tel: 613-241-3686
Email: dominicsoong@hotmail.com