SBA Autumn 2016 Junior Badminton Tournaments
Gather your friends and register early for the first Ottawa area junior badminton tournaments of the new season.
Sunday, October 23: Under 13, Under 17 (based on year of birth of the year of the championships – 2017)
Sunday, November 6: Under 15, Under 19 (based on year of birth of the year of the championships – 2017)
Players from all clubs and all schools are welcome to participate.
FALL 2016 WEEKLY TRAINING PROGRAMS
Ten (10) week programs for the Fall 2016 term.
Friday nights at the Mother Teresa High School in Barrhaven

6:00 – 8:00: Children & Youth ages 6–14 — limited spaces remaining
8:00 – 10:00: Youth ages 14+ and adults

Saturdays at the Turnbull School on Fisher Avenue – FULL - we look forward to welcoming you at the Mother Teresa location
Sundays at the Hunt Club Riverside Park Community Centre – FULL - we look forward to welcoming you at the Mother Teresa location
Information Flyer
Registration Form
NEW: In partnership with Continuing Education Department of the Ottawa Catholic School Board
After school program for the International Languages Program – all players welcome
Saturdays at the St. Clare School in ORLEANS: 2133 Gardenway Drive starting September 17

12:15—2:15: Children & youth ages 6–14
Information Flyer
Registration is "on line" with the OCSB:
conted.ocsb.ca/childrens-programs
WINTER 2017 WEEKLY TRAINING PROGRAMS
Mark your calendars NOW. Registration will open NOVEMBER 2
Saturdays at Turnbull School
Sundays at Hunt Club Riverside Park CC
Check back for information flyer, and registration form.
We look forward to welcoming you back to the courts.
Soong Badminton Coach Recognized as Top Official at Ontario Summer Games — August 2016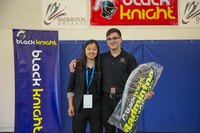 Congratulations to our Soong Badminton Academy coach Devon Hamilton who was invited by Badminton Ontario to represent the ODBA (Ottawa District Badminton Association) at the 2016 Ontario Summer Games held in Mississauga, August 12–14.
Devon was further recognized at the Games by being named the "Official of the Games" which was voted on by the players, managers, and coaches of the seven (7) Districts across Ontario. We would like to extend a big salute to Devon for this success which was earned at his first official event.
SBA leaders bring HIGH FIVE® Quality Programming principles to badminton — August 2016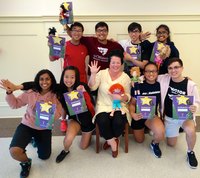 The Soong Badminton Academy continues its commitment to the development and delivery of high quality recreation and sport programs by becoming a Registered Organization with HIGH FIVE® Ontario. HIGH FIVE® is a national organization, supporting organizations across Canada in delivering positive learning experiences to children in recreation and sport programs.
The Soong Badminton Academy has consistently received high evaluation scores for the delivery of training excellence, and is continuing to roll out the High Five training for both our coaches and volunteer leaders.
HIGH FIVE® learning facilitator Kimberley Steven trained eight (8) of our SBA coaching leaders in the application of the principles of HIGH FIVE® for sport at Ashbury College on August 24.
Congratulations to SBA's coaches: Chinue De la Merced, Giulian De la Merced, Madusha Gamage, Devon Hamilton, Vivian Pham, Dulini Rathnasooriya, , Nicolas Tse, and Justin Zhang, for completing the High Five course in preparation to continue delivery of high quality sport programming for badminton.
SBA Continues to lead the way in support of NCCP coaching excellence — June 2016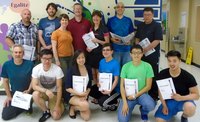 Three (3) members of the SBA coaching leadership team joined experienced coaches from across Ontario, in Ottawa on June 4 & 5, 2016 – to participate in the first Ontario "Provincial" training for the Competition Development stream in the new NCCP:
Module 4 (Preparing for Competition)
Module 5 (Technical / Tactical Skills)
A salute to our SBA coaches who successfully completed the courses: Austin Gaigg, Devon Hamilton, Vivian Pham.
Coaches are now fully "trained" at the provincial level and will now use their new learning, to develop, implement and evaluate annual training plans targeted for the development of competitive players to earn their full "certified" provincial status.
Badminton Ontario NCCP Learning Facilitators: Janet Hugli (SBA) and Kevin Willington
Success for Soong players at Ontario Provincial Junior B Championships in Toronto: May 13-15, 2016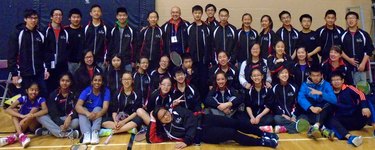 Thirty six (36) Soong Badminton Academy players, along with six (6) SBA team coaches travelled together via bus, to Toronto to compete in the Ontario Provincial Junior B championships. With 287 players representing 29 clubs from across Ontario, the SBA team was clearly the largest group…and the team that travelled the furthest. Despite the early morning departure, and the long journey, the SBA players produced solid performances in all age groups and all events.
Congratulations to all our SBA team members for your strong performances.
Soong Badminton Academy Results
Soong Badminton Academy Photos
Full Results

Soong Coaching Leaders represent badminton at the Ontario Coaches' Association Annual Conference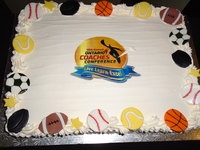 Two (2) members of the SBA coaching leadership team attended the annual coaching conference in Niagara Falls during the weekend of February 20-22. Dominic Soong and Janet Hugli represented badminton, and shared time and information with other provincial NCCP coaches and sport leaders from all sports across Ontario. The event was hosted by the CAO (Coaches Association of Ontario), and supported by the Ontario Ministry of Sport and Tourism.


NCCP – National Coaching Certification Program – Module 3 Completions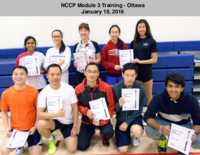 The Soong Badminton Academy continues to lead the way in coaching development.
Five (5) new Soong Badminton Academy leaders completed Module 3 (Technical/Tactical) training – January 10, 2016.
Congratulations to our new SBA coaches: Dinu Heiyantuduwa, Elina Ma, Dulini Rathnasooryia, Molan Ren, Kejie Zhang.
Janet Hugli (NCCP Coach Developer) co-facilitated the training.

Module #1 – Planning a Practice: Five (5) SBA "Coaches in Training" completed Module 1 on February 10th, 2016. Congratulations to our SBA coaches completing the course: Dinu Heiyantuduwa, Dulini Rathnasooryia, Felix Wong, Molan Ren, Keiji Zhang.
Additional training opportunities for Modules 1, 2, 3, (Competition Introduction) will be scheduled for Ottawa for the end of June. Check back for confirmed dates and details. NCCP Modules #4 & #5 are scheduled in Ottawa for June 4 & June 5. Learning Facilitators: Janet Hugli & Kevin Willington.
RACQUETMASTER
Expert racquet stringing, racquet stringing repairs.
Competitive pricing, Fast turnaround.
Supplier/Sales of all Black Knight products: racquets, racquet bags, apparel etc.
Supplier/Sales of all Soong Badminton Academy apparel: T-shirts, shorts.

Dominic Soong:
Tel: 613-241-3686
Email: dominicsoong@hotmail.com