Merry Christmas & Happy Holidays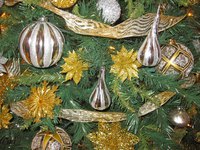 Wishing you happiness and good health as you celebrate the holiday season with family and friends.
We would like to extend our very best of the holiday season to each of you, as we each celebrate the festive season in our own special ways.
May the magic of the season, and the glow of holiday lights, warm your hearts during the holiday season.
BON #3 - Provincial Junior Competitive Series Tournament – December 9/10, 2017 – North Bay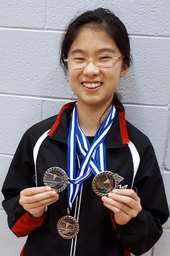 Super results were earned by the Soong Badminton Academy competitive team members, who travelled together via bus to North Bay to participate in the BON #3 event.
There were inspiring performances by all our Soong players in all age categories who raised their games to compete with over a hundred players from across the province.
SBA results included: Twenty-three (23) medals, six (6) - 4th place finishes, four (4) - Consolation Winners, and eight (8) - Consolation Finalists.
Special congratulations to our SBA triple medal winners who included: Dulika Gamage, YiYan Huang, Heather Liu and Richard Xu.
WINTER 2018 – Weekly Training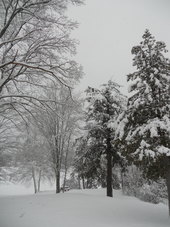 Registration NOW OPEN.
Registration is accepted on a first come basis on receipt of registration form, and payment for appropriate training classes.
Three (3) days, two (2) locations to choose from:
FRIDAYS at Turnbull School

6:00 – 9:00 pm: 10 week program

SATURDAYS at Turnbull School – 10 week programs

2:00 – 4:00 pm: FULL
4:15 – 6:15 pm: FULL
6:30 – 8:30 pm: ages 16+ to adult (competitive with advance approval)

SUNDAYS at Hunt Club Riverside Park CC – 8 week programs

11:45 – 1:45 am
2:00 – 4:00 pm
Note: SBA programs will NOT be offered at the Mother Teresa site for Winter 2018 or for Spring 2018.
We look forward to welcoming you to one of our alternate locations.
SPRING 2018 – Weekly Training
Two (2) locations to choose from:
Saturdays at the Turnbull School
Sundays at the Hunt Club Riverside Park Community Centre
Programs begin April 14/15 weekend – 6 week programs
No classes April 28/29 weekend (Junior Provincial championships)
No classes May 19/20 weekend (Victoria Day weekend)
Registration opens February 28
NCCP Regional Certification – December 2017
Congratulations to Emily Chen who has completed the full requirements for the NCCP Regional Coaching Certification program.
Emily is also a participant in the Coaching Association of Ontario "Changing the Game" program, and a team captain of the SBA competitive team.
We look forward to continuing to work with Emily as she supports the development of badminton in the region.
ODBA District - Outstanding Athletes of the Year 2016-2017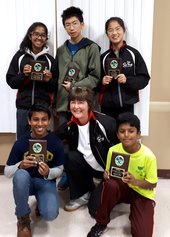 Soong Badminton Academy Players earned Five (5/10) - Outstanding Athletes of the Year (2016-2017) awarded at the annual fall ODBA District AGM on Sunday, November 5.
Congratulations to our SBA athletes:
U15 – Female: Dulika Gamage
U15 – Male: Ethan Wu
U13 – Female: Yiyan Huang
U13 – Male: Hasith de Alwis
U11 – Male: Aayush Saha
GATINEAU Provincial Junior Results – November 18/19, 2017
Thirteen (13) SBA players participated in the Quebec Provincial junior tournament in Gatineau, and earned solid results, along with valuable experience. Congratulations to all participants.
Special congratulations to Dulika Gamage who reached semi-finals in U15 girls singles, taking her opponent to a 3-game match.
IAS Junior Tournament Results – November 4/5, 2017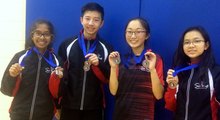 The Soong Badminton Academy had a strong representation at the IAS tournament in Orleans with thirty-five (35) players participating in four (4) age groups.
Great results for the start of the season with: 11 medals, 11 semi-final finishes, 4 Consolation winners, 4 Consolation finalists.
Special congratulations to our triple medal winners:
U13: Erica Xu –Silver medal in singles, doubles, mixed doubles
U15: Kake Jin - Silver medal in singles, doubles, mixed doubles
BON #1 – Ontario Provincial Series Event – Mandarin – October 7/8, 2017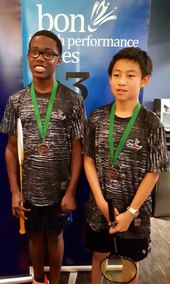 Six (6) of our SBA players travelled to Toronto during the Thanksgiving weekend to compete in the first BON provincial "B" event of the season. Some great matches, and some strong play, along with some great experience.
Congratulations to Xavi Simpson & Ray Bao for their Boys' Doubles U15 consolation victory.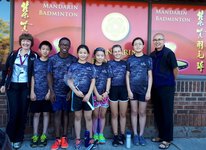 Changing the Game – Changing the Conversation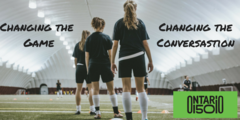 Three (3) members of the Soong Badminton Academy have been selected by the Ontario Coaches Association to participate in the CAO - Ontario 150 program celebrating the development of female coaches.
Janet Hugli Soong has been selected as a CAO Coach Mentor.
Emily Chen and Patricia Liu have been selected as Apprentice badminton coaches.
"Changing the Game – Changing the Conversation" is a signature initiative of the Ontario150 program.
RACQUETMASTER
Expert racquet stringing, racquet stringing repairs.
Competitive pricing, Fast turnaround.
Supplier/Sales of all Black Knight products: racquets, racquet bags, apparel etc.
Supplier/Sales of all Soong Badminton Academy apparel: T-shirts, shorts.

Dominic Soong:
Tel: 613-241-3686
Email: dominicsoong@hotmail.com