RETIREMENT NOTICE: Effective - August 18th, 2023 – 5:01 pm
Yes, the time has come to start the next chapter in our lives.
Janet & Dominic are stepping back and retiring - from organizing and delivering badminton weekly training sessions, camps, and tournaments.
While we will continue to support badminton with ad hoc lessons, clinics and leadership development, we are looking forward to having some quiet time and flexibility to enjoy life, re-engage in hobbies, and travel, while we are still healthy.
THANK YOU for 30+ years of awesome badminton with Soong Badminton Academy.
Ottawa Regional NCCP Coaches — September 2023
As delivering badminton training with qualified and certified NCCP coaches has always been important to the Soong Badminton Academy, attached is the current list of certified and renewed coaches in the Ottawa region, along with their last known club affiliation.
The list includes Ottawa area coaches who have met the current NCCP requirements by:
completing their NCCP certification in the competitive stream, and
completing the ongoing required professional development programs to maintain their status as NCCP Certified (required by all 65 sports in Canada)
Ottawa Sports Council Recognizes DOMINIC SOONG with Lifetime Coaching Award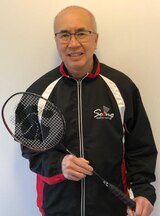 Mar. 09, 2022

Lifetime Award Recipients Announced for 2021

Raz El-Asmar, Dave Mallory, John Reid, and Dominic Soong are the 2021 recipients of the Ottawa Sports Awards Lifetime Awards and Mayor's Cup. The Ottawa Sports Awards is proud to highlight the years of commitment and excellence that these recipients have shown to sport in Ottawa, including returning to sport in 2021.
Lifetime Award – Coach: Dominic Soong
A widely recognized technical expert who has dedicated over 40 years as a professional coach, Dominic Soong has been integral in growing the sport of badminton in Ottawa and beyond.
Soong has worked with athletes who participated in the Olympic Games and earned multiple National, Provincial, and Regional titles, including at Canada Winter Games and Ontario Winter Games.
His coaching focus has always been on the development of players locally at all levels, and the building of a strong and solid foundation of players with good technical skills. He has built partnerships with local schools, community centers, sport associations, and the City of Ottawa, developing one of the largest and most successful junior badminton clubs in the country.
An NCCP Level 4 coach and coach developer, he has mentored, trained, and provided coaching job opportunities to over 150 NCCP coaches.
Congratulations Dominic, from all your current and past players and coaches.
A nostalgic look back in time for the Soong Badminton Academy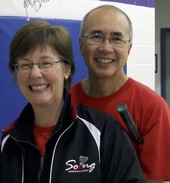 We have been reviewing and organizing our 20K+ photos of our badminton experiences over the past 25+ years.
It is our hope that you will enjoy our nostalgic look back in time, while we await our "return to play" opportunities.
Over the next few months, we will be posting some the many experiences we have shared with our coaches, and with our players over the past 25 years.
Please check back regularly as we continue to add smiles and memories with photos of our coaches and players badminton journeys